Cubbies Crib: Getting to know Joe, the founder of Obvious Shirts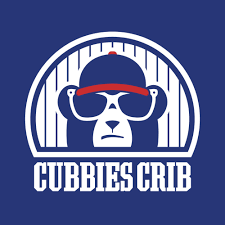 Chicago Cubs: Getting to know Joe, the founder of Obvious Shirts
Don't know Joe? You should. I got the opportunity to sit down with him at his soon-to-be store just a couple blocks north of Wrigley Field last weekend to hear his story and how Obvious Shirts came about.
Johnson was born and grew up in northwest Indiana, just a skip and a hop from Chicago. He had no choice in the matter when it came to what team to cheer for, thankfully. His grandfather put a Cubs pinstriped onesie on him right away and continued to teach and quiz him about the game from an early age. He has always been a Cubs fan, and always will be.
I asked him who his favorite Cub was growing up, and of course, how could you pick just one?
"My first (Cubs) I gravitated towards (were) either Kerry Wood or Mark Grace. Sammy Sosa has to be in my top 5. He's not going anywhere."
He talked about being ten years old during the summer of 1998, when Mark McGwire and Sammy were fighting for the home run crown. He recalled at his Little League baseball games the scorekeepers would put the radio on the PA system so everyone could hear Sosa's at-bats, remarking, "That's how big of a deal it was."
We talked about the heartbreaks of '98, '03 and '08, and how the team took a turn with the hiring of Theo Epstein. He got goosebumps talking about the moments after the Game 7 win in 2016 marking the Cubs' first championship since 1908.
"The best part about all that was right after they won, we went out to the front yard of my house, and you could just hear the whole neighborhood buzzing. People were just running down the street. At one point, my street was just filled with people like literally walking towards the stadium. People were just giving high fives."
At this point, Johnson isn't married and doesn't have any kids – so it was an easy decision calling that November night nearly five years ago 'absolutely' the best night of his life.
The idea of Obvious Shirts came about in a very, well, obvious way. The idea started during the summer of 2015 when Cubs pitcher Jake Arrieta was having a second half for the ages, en route to the NL Cy Young Award. That summer, Johnson was a season ticket holder at Wrigley and would enjoy games with his co-workers, friends and his girlfriend. During some office chatter one morning after another dominant Jake performance, Joe was at work with his friends and just said a simple statement out loud: "Guys, Jake Arrieta is good at baseball."
"They laughed and I thought, 'yeah, I should put that on a t-shirt.'"
Luckily, the gentleman who sat next to Joe at the games and is also named Joe knew where he could get him one royal blue t-shirt with white Helvetica Bold font. Joe chose that font because he recalled an architecture class in college teaching him that Helvetica is the easiest font to read. "I wanted to make the most basic, uncreative, stupidest, simplest shirt." And that he did.
He wore that one shirt to the next Jake start after receiving it. "In the third inning I went up to get a beer, and that's when I got bombarded. That's the day everything changed."
From that day forward, Joe took a leap and never turned back. Obvious Shirts took off with other great shirts. Kyle Schwarber Crushes Baseballs. I'm Allergic to St. Louis. Beer Tastes Better in the Bleachers. Joe had idea after idea, and the shirts just kept selling. Eventually, even the Cubs players began to latch onto the fun. He made custom shirts for players and eventually made them for the public. I could list them, but I would rather encourage you to go see them for yourself.
Chicago Cubs:  Obvious Shirts for fans, players and important causes
Johnson also uses his platform for great causes. He partners with Boog Schambi, Cubs play-by-play announcer on Marquee Sports, to raise money for his ALS foundation with a custom Cubs shirt. It became public that former Chicago Bear Steve McMichael was diagnosed with ALS earlier this year, and he created a Team Mongo shirt so all proceeds could go to helping him in his fight. And these are not the only two, you can go to his website to see he has his hands helping the Chicago community in many more ways.
Today, you would be hard pressed to go to a Cubs game, or even just to Wrigleyville, without seeing at least a dozen Obvious Shirts, which is probably something Joe never expected. But what he has done is change the way some people, including myself, "fan" in a way.
Obvious Shirts is a company that prints t-shirts for Cubs fans by a Cubs fan, and that's what's most important to Joe. What he wanted to do was people to see his shirts, and have reactions from people and conversations started.
"There were some some bumps in the road and it was not easy, but I am super thankful. I feel super blessed and I love what I do."
Eventually, and even currently, Obvious Shirts is going to be a hot commodity, and other professional teams are going to want to partner with him and his shirts. While that is certainly on the table and he's not sure what the future holds, Joe assured me of a couple of things: his loyalty will always be to the Cubs and Cubs fans, and he will never make a shirt for the St. Louis Cardinals.
You can hear my entire conversation with Joe by clicking here.
---